inaugurato progetto europeo Recolor
Il Comune inaugura RECOLOR e apre due sale multimediali dove ammirare immagini e scorci inediti del Tempietto Longobardo e di Piazza Paolo Diacono ricostruiti grazie alle più innovative tecniche della modellazione e della grafica virtuale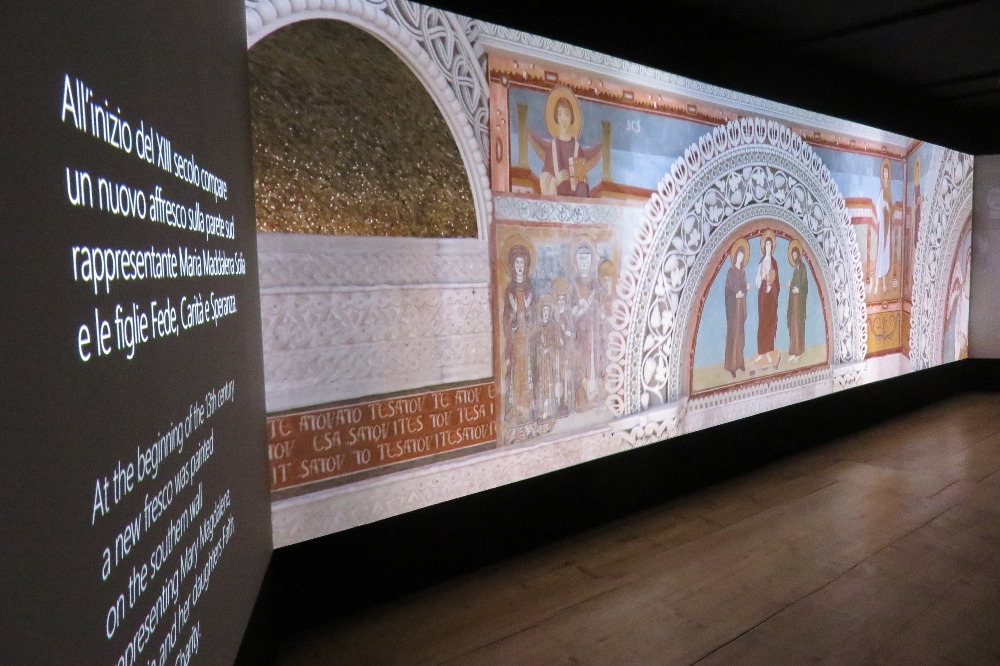 Ieri, venerdì 6 maggio, sono state inaugurate a Cividale del Friuli le due azioni-pilota del progetto europeo RECOLOR - Reviving and EnhanCing artwOrks and Landscapes Of the adRiatic (Riscoperta e valorizzazione dei beni artistici e paesaggistici dell'Adriatico) finanziato dal programma Interreg V-A Italia-Croazia 2014-2020. Oltre al Comune di Cividale del Friuli, il progetto ha coinvolto sette partner: per l'Italia la Regione Emilia-Romagna in veste di capofila, l'Università di Bologna, il Comune di Campobasso, Montefeltro Sviluppo Scarl; per la Croazia il Comune di Albona, la Città di Zara, il Politecnico di Sebenico.
Dopo due anni di studi e lavori sono pronte per il pubblico le due sale multimediali "Immersive Room" all'interno del Monastero di Santa Maria in Valle con annesso Tempietto Longobardo e "Virtual Balcony" a piano terra del Palazzo ex-Monte di Pietà in piazza Paolo Diacono".
La cerimonia in teatro è stata introdotta da Angela Zappulla per l'Assessorato alla Cultura e ha visto alternarsi sul palco, per i saluti istituzionali, il sindaco Daniela Bernardi e il vice sindaco Roberto Novelli. Sono seguiti gli approfondimenti tecnici sul progetto da parte di Marco Marinuzzi e l'illustrazione delle ricerche e di tutto il progetto, sia scientifico che tecnologico, da parte dell'archeologo Luca Villa e dell'architetto Raffaele Carlani di Katatexilus.
Se la finalità del progetto è quella di aumentare con l'aiuto di tecnologie innovative, l'attrattività dei paesaggi urbani e rurali italiani e croati caratterizzati da un rilevante patrimonio culturale (si tratta dunque di un'operazione di valorizzazione e promozione dei Landscape of art - Paesaggi d'arte), Recolor calato a Cividale del Friuli si è proposto di rendere visibile e comprensibile ciò che non è più evidente consentendo una più ampia fruizione della cultura da parte del pubblico.
"Partendo dalle fonti disponibili (iconografiche, monumentali, archeologiche) – hanno spiegato Villa e Carlani - il ricorso alle tecnologie più innovative ha prodotto rilievi tridimensionali, ricostruzioni virtuali e realtà aumentata permettendo di dare un volto a questa "cultura invisibile".
Una sala multimediale, allestita all'interno del Monastero di Santa Maria in Valle, è diventata il luogo di narrazione dell'ambiente storico e delle sue trasformazioni: in questa Immersive Room lo spettatore potrà vedere il Tempietto Longobardo restaurato virtualmente, una ricostruzione in 3d dell'Ipogeo celtico e un cortometraggio sui longobardi realizzato da Marco D'Agostini e Luca Villa con Massimo Somaglino, Klaus Martini e i "longobardi" de La Fara di Tricesimo.
"Per Piazza Paolo Diacono, centro della Cividale longobarda dove esisteva la corte ducale e dove è stata rinvenuta la famosa tomba del cosiddetto Duca Gisulfo – proseguono i due esperti - è stata realizzata un'analisi per la ricostruzione degli scenari con modelli 3d, immagini e video con tecnologia immersiva, il tutto visibile nel Virtual Balcony di Palazzo ex monte di Pietà".
Da oggi, sabato 7 maggio, le due installazioni saranno accessibili al pubblico: l'Immersive Room arricchirà il percorso di visita del Monastero stesso, e in via straordinaria, sarà aperta sabato 8 maggio e domenica 9 maggio gratuitamente dalle 18 alle 20; il Virtual Balcony in piazza Paolo Diacono sarà aperto sabato 8 maggio e tutte le domeniche estive dalle 10 alle 14 e dalle 15 alle 20.